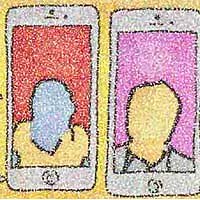 Online Therapy
Online therapy appeals to many people for a range of reasons and is suitable for most of the issues face-to-face therapy deals with. Read on for more details about my online therapy practice.

WHY WORK ONLINE?

Online therapy appeals to many people and is suitable for a wide range of issues. Some men, for example, find the online environment feels 'safely masculine' by contrast to the traditional therapy space with its boxes of tissues and perceived demands to 'talk about feelings'.

If you are juggling a full-time or demanding job, then adding travel time to the duration of a counselling or psychotherapy session isn't always a reality. However, meeting via an online video-chat platform can be hugely time effective as a way to have regular therapy sessions.


I was an early adopter of online video work having become accustomed to remote ways of working with distressed people as a Samaritan in the 1990s.

My current practice is based mainly on long-term, open-ended therapy, both in person and via video chat platforms. I have used video chat in thousands of consultations, and I find video chat work to be creative and intimate and to work well - even in sensitive areas of work such as attachment and trauma.


Woman and men who travel as part of their working lives also find online therapy a great way to access a therapeutic environment that wouldn't otherwise be open to them.

'WHAT ISSUES ARE SUITABLE TO WORK WITH ONLINE?'

Although many issues that would come up in the face-to-face counselling space are suitable for remote working, not all things work well via this method. In your initial contact with me we will check the area of work that you want to cover. If I feel your issue/s would be best worked on in person I will suggest we meet at my location-based practice (if you are in close enough proximity) or I will happily refer you to a suitably qualified colleague.

'WHAT SORTS OF ONLINE WORK DO YOU OFFER?'

I use video-chat based therapy in my work with men, women and couples. Please note: I do not offer text-based therapy, messaging or other related formats.

'WHAT PLATFORMS DO YOU USE FOR THERAPY AND COACHING?'

I find there are a number of good platforms to use. I regularly use FaceTime, Sessions and Zoom. I also work via VSee, WhatsApp, Whereby and Skype when needed. In some appropriate cases I work with people via a mobile or landline telephone.